Pensiune Erlenpark, Sibiu
Pensiune Erlenpark
Strada Octavian Goga, Nr. 77
Sibiu
The pension is situated at 2 km from historic centre of the city, in a resident zone witch the people like for the charm of the houses and for the SubArini Park.
Pensiune Erlenpark
telefon: 0269 252 153
mobil: 0742 079 365
fax: 0269 224 540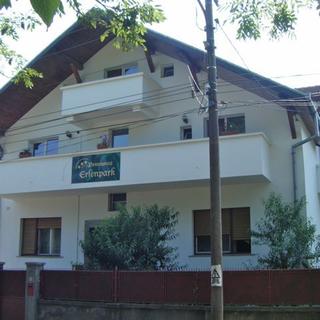 You will enjoy our hospitality and you will spend an unforgetfull vacation in Sibiu.
All the rooms have exits to terraces, with views to the parck and to the mountains that surround the city of Sibiu. In the parlor, the furniture is worked in the style of the begining of the 20 century. The rooms have new, modern and functional furniture.
The 7 guestrooms, 4 double rooms and 1 apartament, lead in a big and bright parlor.